Why Choose Nursing as a Second Career?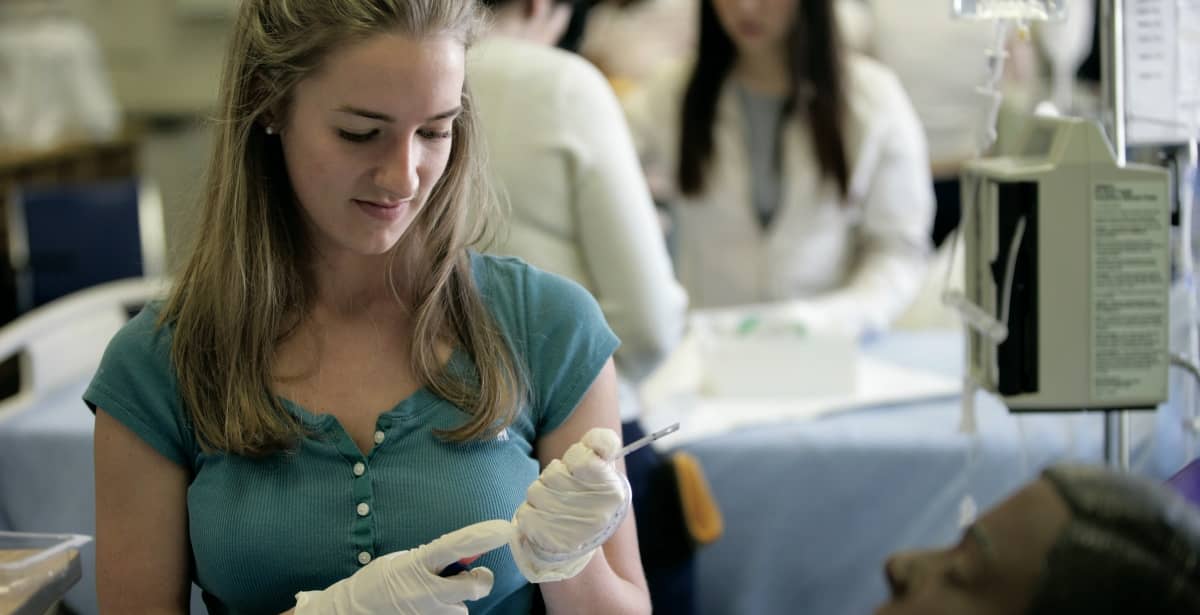 Tracy Gordon Fox spent years as a crime reporter. Compelled by the physical pain she saw among young heroin addicts during her investigations, Fox said she eventually decided she no longer wanted to help communities through sharing their stories, but through personally intervening. She accepted a buyout from her newspaper and entered into nursing as a second career, becoming an emergency room nurse.
Accounts payable manager Patricia Diaz was sound asleep on a bus traveling from Staten Island, NY to her engineering firm in Manhattan when the September 11th attacks struck. According to a story in Woman's Day, the suffering she witnessed that day motivated her to attend nursing school part-time while continuing to work full-time at the age of 40. She became a per diem care attendant, then, eventually a full-time registered nurse on a heavy medical surgical hospital floor.
Before becoming a trauma nurse, Rich Van Rensselaer owned a boutique liquor store and coffee shop. According to the New York Times, Rensselaer oversaw his mother's end-of-life cancer care. For them, a second career in nursing wasn't simply a way to keep paying the bills, but an opportunity to enter a later-life chapter filled with meaning.
If you're wondering how you can make a difference by helping others, you may want to consider a second career in nursing. An Accelerated Bachelor of Science in Nursing degree (ABSN) equips individuals with bachelor's degrees in another field to quickly make a fulfilling career transition.
In this post, we'll discuss the compelling highlights of a second career in nursing, pathways to a nursing career, and the job outlook for nurses.
Request Your Free Program Guide
Nursing Is Rewarding
According to nurse Nicole Benedetto in The Advocate Nurse, nursing is "challenging, exciting, and, most of all, rewarding in so many more ways than I can explain." Benedetto cites the following elements of her job as especially rewarding:
Hearing patients' stories.
Working as part of a team and getting hands-on experience.
Teaching others and being taught.
Being provided opportunities for growth.
Making a difference.
Data bears out Benedetto's personal experiences. According to Medscape's Nurse Career Satisfaction Report 2018, "NMs, CNSs, and CRNAs all reported 98% job satisfaction, while NPs, LPNs, and RNs had satisfaction rates ranging from 94% to 96%."
During COVID-19, some nurses have reported increased anxiety and fear, which may decrease job satisfaction. However, according to a Journal of Nursing Management article, "Resilient nurses and those who perceived higher organisational and social support were more likely to report lower anxiety related to COVID‐19."
Nursing is a job that's full of meaning, for both women and men. Every shift makes a positive difference in the lives of patients and those who love them.
Nursing Is Flexible
Nurse Journal reports in an article entitled "The Rewards of Being a Nurse" that "one of the best things about a nursing career is the range of options it has."
Nurses have flexibility in several ways including:
Facilities: nurses work at hospitals, clinics, physician's offices, schools, camps, community centers, nursing homes, and many other locations.
Specialties: Johnson & Johnson Nursing lists 96 nursing specialties, ranging from Ambulatory Care to Obstetrics Nursing to Veterans Affairs Nurse.
Schedule: According to Nurse Dash, nurses may work 12-hour, 10-hour, or 8-hour shifts. 12-hour shifts typically run from 7 a.m. to 7 p.m. or 7 p.m. to 7 a.m. 10-hour shifts often create a schedule that has four days on and three off. 8-hour shifts may run from 9 a.m. to 5 p.m., especially in a clinic setting, or in a hospital these shifts may include day shift, swing shift and graveyard shift.
You Can Help Address the Nursing Shortage
According to "Nursing Shortage," an article in StatPearls, The American Nurses Association (ANA) states that "there will be more registered nurse jobs available through 2022 than any other profession in the United States." The article goes on to say that the nursing shortage arises from "lack of potential educators, high turnover, and inequitable distribution to the workforce."
As the population grows older and Baby Boomers reach retirement age, patient numbers aren't the only figures increasing. Nurses themselves are growing older themselves. " There are currently approximately one million registered nurses older than 50 years, meaning one-third of the workforce could be at retirement age in the next 10 to 15 years."
Additional contributors to the nursing shortage is nurse burnout and women leaving their nursing jobs upon having children. By transitioning to a second career in nursing, you can be part of addressing the worldwide nursing shortage.
Nursing Is an Excellent Career
Both data and stories testify to nursing being an excellent career. In "Nursing in the US is a Great Career Choice" by Frieda Paton, M.Cur, RN at Nurses Labs, "Not only is the average registered nurse's salary the best in the world, but job opportunities are set to keep growing." Additionally, nurses tend to stick with their professions long term.
Nursing can be a wonderful career due to the:
Positive effects of helping people in need
Team-oriented work experience
Range of job opportunities
Steady income
Medical benefits
Job security
Promotion opportunities
In an article entitled "7 Reasons why I love being a nurse" published by Scrubbing In, Allie Herrera, BSN, RN, CCRN, wrote that she loves the way nursing allows her to meet people from diverse backgrounds. She also cited never being bored at work, developing her critical thinking skills, and certainty that she's making a difference on her list of reasons for loving her nursing career.
Nursing Is a Great Job for Your Family
If you're wondering how a second career in nursing may affect your family members, we have good news for you. In their post "10 Best Nursing Jobs for Moms," All Heart shares that "you can make almost every nursing job" work when you're the mother (or father!) to young children. They also point out nursing jobs that especially integrate well with family life, including the following nursing positions:
School nurse
Factory nurse
Acute care nurse
Home healthcare nurse
Per diem nurse
Travel nurse
At-home nurse
Ambulatory nursing
Rose Kennedy in the Atlanta Journal-Constitution wrote an article entitled "7 ways being a nurse makes you a better parent." Due to their expertise in the human body, compassionate support, and medical care, nurses often have highly developed caregiving skills that translate well to parenthood. According to Kennedy, nurses can:
Help their children take charge of their own bodies
Communicate well with their children
Simplify life in necessary ways
Use and teach computer skills
Cultivate kindness in their children
Demonstrate and encourage gratitude for health and wellness
Be an example to their children of hanging tough
Nursing Is Fulfilling on a Personal Level
In "What it's REALLY like to be a nurse, one of the most satisfying and in-demand jobs in America right now" published by Business Insider, author Lyndsey Reid reported that, "Being a nurse is not a profession for the faint-hearted. Nurses deal with life, death, and everything in between. But the job is also considered to be one of the most satisfying, in-demand, secure, and overall best jobs in healthcare."
Everywhere from magazine articles to social media posts, nurses celebrate the fulfillment they experience in the jobs.
In a post titled "Why I Love Being a Nurse" published by Daily Nurse, Kathrine Hardy, FNP, RN stated, "I am a Family Nurse Practitioner of 16 years, and was an RN prior to that. My joy is caring for my patients, and the trust that develops with that relationship. They fulfill me, and I help provide them with the care they deserve."
Similarly, Lori Wilt, PhD, RN, NJ-CSN, NCSN, CNE, stated, "There is a tangible satisfaction in helping others achieve goals, whether it be in health promotion or nursing education. Having an influence on patients, students, and the community is the greatest reward in nursing."
How to Become a Nurse with an ABSN
If you're ready to transition from your current career or retirement into a fulfilling, secure second career, consider pursuing an accelerated bachelor of science in nursing degree.
ABSN programs are designed for individuals who hold bachelor's degrees in other fields. The program takes just four semesters—a highly accelerated rate for nursing school. While the program must be approached full-time and will not work alongside a full-time career, the quick pace and orientation toward career readiness will have you back at work in a timely manner, ready to embark on a purposeful second career.
Nursing Salary Ranges and Job Outlook
The Bureau of Labor Statistics (BLS) states that registered nurses earn a median salary of $73,300 per year. The job outlook is 7%— nearly double the projected percentage change in employment for all occupations.
The BLS writes that growth is expected to be faster than average in outpatient care centers, "such as those that provide same-day chemotherapy, rehabilitation, and surgery," which increases the need for nurses. Residential care facilities and home health companies will also continue to grow in their need to employ trained nurses.
Embark on a Meaningful Second Career in Nursing
Are you ready to hear more about what it may look like for you to become a nurse? Take the first step by connecting with Marymount University to learn more about our Online Accelerated Bachelor Of Science In Nursing degree (ABSN).
Our program offers you an accelerated path at a regarded nursing school with more than 50 years in nursing education. Our nursing graduates enjoy a 92% average NCLEX-RN five-year passing rate. Additionally, Marymount University is ranked by U.S. News & World Report for overall quality, value, and veterans' support.
During our online program, students build foundational knowledge through an introduction to nursing, develop an understanding of clinical care factors, explore community-specific health determinants, and learn to evaluate evidence to support care decisions through research and clinical reasoning. The skills students have developed in their first careers—everything from fine arts to STEM jobs, business to education positions—equip them to engage the nursing curriculum with skill and success. They graduate ready to provide patient-centered quality care to patients of all ages.
Make a difference in your own life and others' lives through a new career as a nurse. Start with the Online Accelerated Bachelor of Science in Nursing degree (ABSN) from Marymount University.
Request Your Free Program Guide
For Those Near Virginia Be Sure to Also Read: