Top 5 Benefits of Being a Family Nurse Practitioner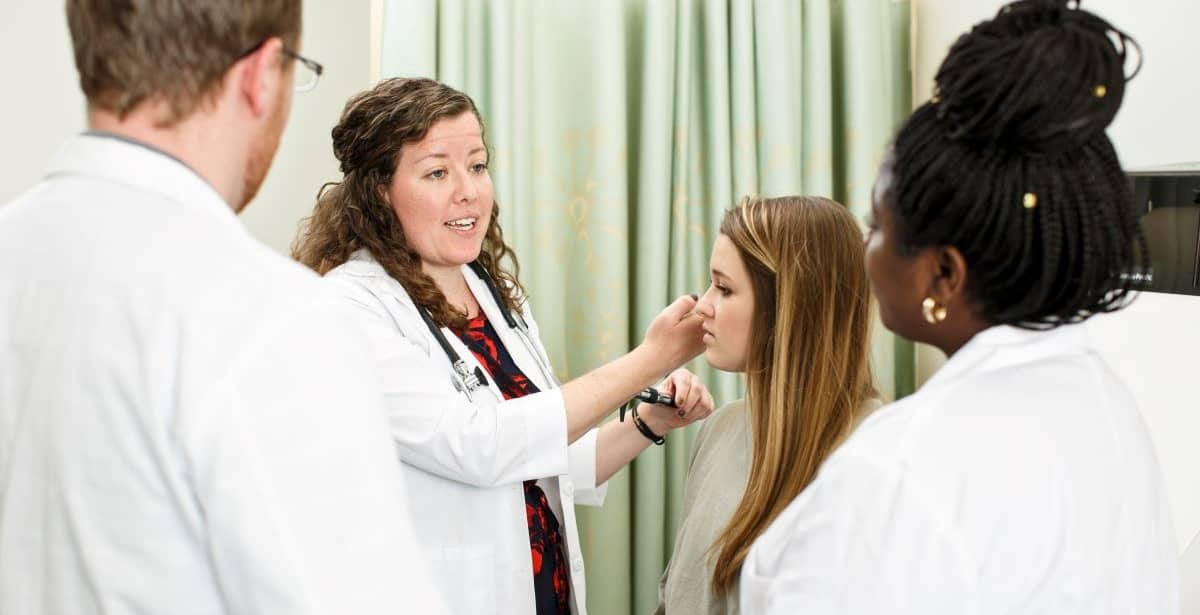 Learn more about Marymount's online MSN-FNP program.
You're a nurse, so you already know how meaningful it is to deliver compassionate, quality care to your patients. If you could continue to care for patients on a more personal level, work autonomously and make more money, would you be interested?
If your answer is yes, you might be interested in learning about the benefits of becoming a family nurse practitioner (FNP). Family nurse practitioners deliver family-focused care; they serve patients from infancy to the elderly and every age in between.
Request Your Free Program Guide
Why Become a Family Nurse Practitioner?
Because there is considerable opportunity in this field. As reported by AANP, in 2018, an estimated 1.06 billion patient visits were made to NPs.
No matter where you live or in what type of clinical environment you work, as an FNP, you can step in to fill the gap, build your career and make a difference in the lives of your patients.
As an FNP, you'll provide lifelong, comprehensive care for your patients through health education, preventive health services and disease management.
Let's look at the top five benefits of being an FNP and then go into more detail on each.
Job security
Higher pay
Direct patient care
Service to your community
Flexibility
Getting an advanced degree as a family nurse practitioner will allow you to make an even greater impact within the health care industry and on the patients and community you serve.
1. Job Security
Regardless of technological advances or modern-day consumerism trends, people will always need quality health care, especially because our country's population is aging.
Nationwide, as our population grows older, the demand for quality health care will increase. Baby boomers are aging at a rapid rate. According to the U.S. Department of Health and Human Services, the U.S. population of people ages 65+ increased 33% from 37.2 million in 2006 to 49.2 million in 2016. This number is projected to double to 98 million by 2060.
It's a certainty that this group of people will need preventive care for their health and wellness as well as chronic and acute care for disease management.
Demand for Family Nurse Practitioners
Just as our general population is getting older, so too are our nurses and nurse practitioners (NP). As baby boomer nurses and nurse practitioners near retirement, there will be a demand for new NPs to enter the workforce. Since 2012, nearly 60,000 nurses have retired annually, and by the end of this year, that number will increase to 70,000.
Today, there are about 660,000 baby boomer nurses, which is half of what there were in 2008 during their peak reign. There were more than 290,000 licensed nurse practitioners in the country as of December 2019, 65% of whom were licensed as family nurse practitioners, according to the American Association of Nurse Practitioners® (AANP).
The U.S. Bureau of Labor Statistics (BLS) predicts that nurse practitioner jobs will increase 28% over the course of 10 years through 2028. This provides a great deal of growth potential for the profession and for you personally.
Family Nurse Practitioners Fill the Gap
Unfortunately, just as we're seeing a growing demand for health care, there is a shortage of primary care physicians now and a looming deficit on the horizon. According to new data published in June 2020 by the Association of American Medical Colleges, the U.S. could see an estimated shortage of between 21,400 and 55,200 primary care physicians by 2033.
The good news is that the Bureau of Labor Statistics (BLS) notes that nurse practitioners can do many of the duties of physicians and thus may help reduce health care costs.
2. Higher Pay
Getting an advanced degree as an FNP has financial advantages.
As reported by Indeed, family nurse practitioners earn significantly more - 38% - than those with a registered nursing degree. The average base salary for FNPs in the United States in 2020 is currently $110,141 with an additional $18,750 per year in overtime pay.
Additionally, employers often offer a generous range of benefits and perks including tuition reimbursement, vacation pay, health insurance, 401k contributions, professional liability coverage and more.
Family Nurse Practitioner Salary Outlook
According to ZipRecruiter®, the top 10 states with the highest average salaries and hourly rates are:
| State | Average Salary | Average Hourly Rate |
| --- | --- | --- |
| New York | $116,156 | $55.84 |
| Massachusetts | $115,058 | $55.32 |
| Washington | $114,255 | $54.93 |
| New Hampshire | $111,978 | $53.84 |
| Hawaii | $110,505 | $53.13 |
| Maryland | $106,631 | $51.26 |
| Connecticut | $106,597 | $51.25 |
| North Dakota | $105,898 | $50.91 |
| Alaska | $105,898 | $50.91 |
| Wyoming | $105,898 | $50.91 |
Get a snapshot of your earning potential as an FNP across all states in the country
An FNP Is an In-Demand Position
The benefits of becoming an FNP go beyond higher pay. Not only are NPs compensated higher for their work, but the position and standing within the health care field is highly rated. U.S. News & World Report cites nurse practitioners as #4 out of #29 in the Best Health care Jobs list with a median income of $107,030.
Even more impressive, it cites the role of nurse practitioner as #5 in the 100 Best Jobs of 2020.
Why? According to their methodology, it pays well, is challenging, matches your talents and skills, isn't too stressful, offers room for advancement, provides a satisfying work-life balance and the position is in demand.
3. Direct Patient Care
Nurses are known for their compassion and calling to help others. The added benefit of being a nurse practitioner is that as your patients' primary contact, you will develop long-term relationships with them, getting to know the nuances of their health and their unique needs.
Family nurse practitioners work directly with patients, much like primary care physicians do. FNPs are frequently the primary care provider for families, which means they can diagnose conditions and treat them. Because family nurse practitioners' patient base is family-oriented, they may see infants, children, adolescents and adults of all ages, including the elderly.
Family Nurse Practitioner Responsibilities
Some of the primary responsibilities of an FNP include:
Maintain patient records
Perform routine physical exams
Order, perform and/or evaluate diagnostic tests
Prescribe medication and other therapies
Develop treatment plans
Manage acute and chronic illnesses
Treat conditions and injuries
Make referrals to specialists
Family Nurse Practitioners Work Independently
Many states allow FNPs to work directly with patients without physician oversight. Currently, 28 states allow nurse practitioners (NP) to practice without direct physician supervision, immediately upon licensure. Another 14 states allow NPs to practice independently after they serve with physician oversight for a set number of hours.
But with or without the supervision of a physician, FNPs have a far greater degree of autonomy than registered nurses, allowing them to develop relationships of trust and collaboration with their patients. This is also true because the nurse practitioner model of care focuses less on the number of patients seen per hour and more on the overall health and wellness of each patient.
Family Nurse Practitioners Partner With Their Patients
In addition to diagnosing and treating their patients, FNPs are in the unique position to partner with, educate and counsel people about how to live healthier lives and prevent disease. This quote from an FNP as featured in an AANP article exemplifies the collaborative role of an FNP:
"After burnout from years in intensive coronary care as a registered nurse, I wanted patients who were able to participate fully in their care and take more responsibility for their health with my guidance, so I decided to become a nurse practitioner. As an FNP, I am a little like the old general practitioner; I prefer being a generalist and collaborating with colleagues and experts when the need arises. The FNP role affords the option to practice broadly or within a defined area in primary care."
4. Family Nurse Practitioners Serve the Community
Family nurse practitioners work with all types of people from diverse backgrounds in a variety of community settings. They care for individual patients, but they also focus their efforts on the education of healthy lifestyles and disease prevention for the community.
Where Do Family Nurse Practitioners Work?
Nearly a quarter of NPs work in private practices and 14% in hospital outpatient clinics. NPs practice in a variety of health care settings, including:
Private offices/private practice
Hospitals
Clinics
Hospice centers
Nurse-managed health centers
University clinics
Home health care
Community health centers
Regardless of setting, an FNP fills an important role in the health care system as a whole, collaborating with health care and social service leaders to assure the best outcome for patients and the community.
Serve the Underserved
In some rural settings across the country, where physician shortages are common, FNPs are the sole health care provider and provide much-needed services to underserved populations that would otherwise have limited access to health care.
Another benefit of becoming an FNP is that you can play a valuable role in health promotion, education and advocacy in your community.
Why? Because FNPs spend more time than other health professionals in direct patient care. They have the knowledge, skills and experience to be exceptional advocates. They are the first to know when our health care system does not meet patient needs, and they have a deep understanding of its failure to provide access to high-quality care.
The Family Nurse Practitioner as Advocate
As an FNP you will have the opportunity and be in the position to advocate for your community to get the resources it needs for better care for everyone.
Whether you practice in a rural community or an urban or suburban setting, you will be valued for your ability to care for patients and the community at large. In fact, according to a Gallup® poll in 2019, Americans rated the honesty and ethics of nurses highest among the list of professions 18 years in a row.
Last year, 85% of Americans rated nurses' honesty and ethical standards as "very high" or "high," putting nurses ahead of doctors, pharmacists and even dentists. 
5. Flexibility
Advance your degree and boost your career while you work.
Online studies for an FNP degree are flexible and fit your lifestyle. You can study from the comfort of home or anywhere with a WiFi connection. Online learning affords you the opportunity to continue to work and earn a living while still spending time with your family and doing the things you love to do outside of work.
The flexibility of distance learning lets you apply, enroll and begin your studies anytime of the year. Moreover, online programs typically cost less, but you still get the advantage of applying for federal financial aid.
The MSN to FNP online program at Marymount University is a part-time program designed for the working professional who wants to pursue a challenging career path and advance to the next level of excellence in nursing.
In addition to high-quality online learning, Marymount University provides placement services to meet your clinical requirements so that you're fully prepared to graduate and be successful wherever you decide to practice. In 2019, 100% of the 2019 graduates passed their AANP and ANCC certification exams on their first attempt.
Marymount University is fully accredited by the Commission on Collegiate Nursing Education (CCNE). There is no GMAT or GRE requirement for admission. It's more than just an online university, though. "Marymount emphasizes intellectual curiosity, service to others and a global perspective," states MU President, Dr. Irma Becerra.
If you're considering the next step in your nursing journey and want to make an impact on patients' lives, grow professionally, financially and spiritually, join the growing body of professional nurses making a difference with an online MSN-FNP degree from Marymount University.
Request Your Free Program Guide