The Nursing Alphabet: What Do the Different Nursing Acronyms Mean?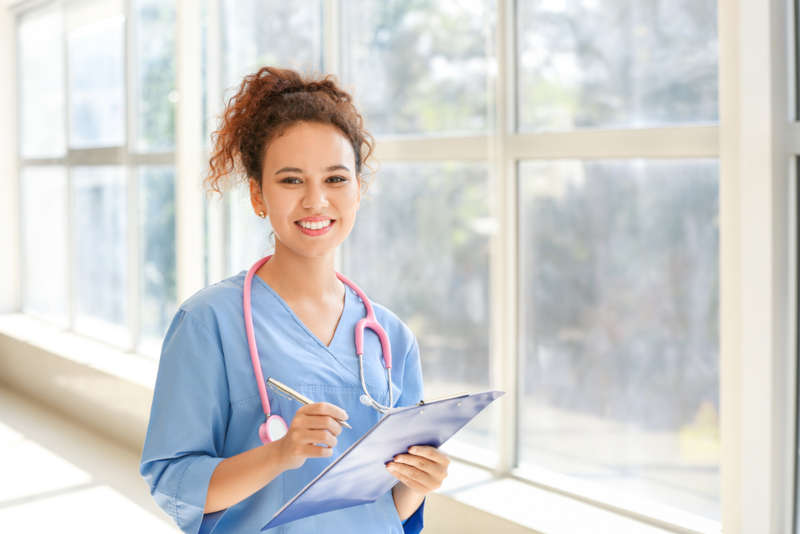 Nursing professionals frequently communicate in abbreviations and acronyms. The long list of medical abbreviations used by nurses reflects the precision required in clinical settings. Extensive knowledge of abbreviations supports effective communication amongst nursing teams as they treat patients.
Aspiring nurses and nurse practitioners should also understand abbreviations related to their career options. The combination of nursing specialization and degree acronyms can be confusing at first glance. An understanding of the following nursing abbreviations and acronyms can clear up your options for professional growth.
Medical Abbreviations and Acronyms
Mastery of nursing terms can save time and reduce confusion within nursing teams. Here are some of the most commonly used nursing abbreviations and acronyms:
A&D: Admission and discharge, refers to the entry and exit of a patient from care.
C/O: Complaint of, symptoms reported by patients to nurses and doctors.
DC or d/c: Discontinue or discharge, refers to discontinuing medication or discharging patients based on context.
DX: Diagnosis, the analysis of symptoms and medical conditions in determining health problems.
HOB: Head of bed, the elevation or relative position of a patient's bed based on condition or treatment type.
I&O: Intake and output, a measurement of fluids entering and exiting a patient.
NPO: Nothing By Mouth, defines a period of time before an exam where a patient cannot eat or drink.
ROM: Range of motion, an assessment of an extremity's ability to move based on a series of exercises.
TPR: Temperature, pulse, respiration; a series of baseline measurements taken at admission. 
WNL: Within normal limits, a term used in testing results to indicate a measurement within accepted ranges.
Nursing Specialization Abbreviations
Nurses and nurse practitioners interact with patients of all ages as they deal with health challenges. The broad range of potential diagnoses and treatments translates into a variety of specializations. Here are a few of the nursing abbreviations and acronyms related to job titles.
RN
Registered nurses (RNs) act as the primary points of contact as patients interact with the health care system. They gather health histories, administer inoculations and promote healthier living during appointments. RNs coordinate with nurse practitioners (NPs) and physicians on well-rounded treatment plans. This career path requires an undergraduate degree and ongoing state licensure.
APRN
Advanced practice registered nurses (APRNs) are experienced nurses trained for primary and specialty care roles. APRNs can order tests, prescribe medications and enjoy full practice authority in a majority of states. This level of autonomy is achieved through additional licensing and graduate-level education. Different areas of APRN specialization include:
Certified Nurse-Midwife (CNM)
Certified Nurse Practitioner (CNP)
Certified Registered Nurse Anesthetist
Clinical Nurse Specialist (CNS)
FNP
Family nurse practitioners (FNPs) are APRNs who focus on preventative medicine for patients of all ages. They develop long-term clinical relationships with patients and provide many of the same services as primary care physicians. An American Association of Nurse Practitioners (AANP) survey found that 70.3% of all NPs focus on family practice.
PMHNP
Psychiatric-mental health nurse practitioners (PMHNPs) are APRNs specializing in mental health care. Practitioners in this field provide therapies for the treatment of mental health and substance use disorders. These interventions range from scheduled counseling sessions to emergency psychiatric services. PMHNPs typically work in in-patient clinics, addiction centers and private practices.
Nursing Degree Abbreviations
Nursing degree programs equip graduates with the expertise necessary for effective patient care. You'll come across multiple degree acronyms as you consider your future in the profession. The following abbreviations are the most common degree options available to nursing professionals:
BSN
The Bachelor of Science in Nursing (BSN) is a four-year undergraduate degree designed for future RNs. The share of all nurses who earned BSNs at initial licensure grew from 36% in 2013 to 41.8% in 2020. BSN students complete courses in scientific disciplines including anatomy, microbiology and physiology. They also learn about the nursing profession in courses on:
Family Nursing
Health Assessment
Leadership & Management
Public Health
ABSN
An Accelerated Bachelor of Science in Nursing (ABSN) is designed for students with bachelor's degrees in non-nursing fields. ABSN programs do not require students to complete another set of general education requirements and focus on nursing-related coursework. This degree option can be completed in less than two years of classes and clinical placements.
MSN
The Master of Science in Nursing (MSN) is the degree required for licensure as an APRN or Clinical Nurse Leader (CNL). This graduate-level option combines advanced lessons in nursing topics with hundreds of hours in supervised clinical placements. MSN holders are prepared for certification in their areas of specialization by the American Academy of Nurse Practitioners (AANP) or the American Nurses Credentialing Center (ANCC). A traditional MSN requires two years of study for graduation.
DNP
The Doctor of Nursing Practice (DNP) is the terminal degree for APRNs. DNP programs build on advanced clinical lessons learned at the MSN level through additional courses and clinical placements. APRNs with DNPs open career options including clinical leadership and academic roles. The typical DNP degree requires four years of study to complete.
Advancing Nursing Careers at Marymount University
Marymount University offers degrees for all of the specializations explained above. The entry-level option for students with non-nursing undergraduate degrees is the Online ABSN. In just 16 months, Online ABSN students complete the following requirements in preparation for RN careers:
An on-campus residency
Clinical placements in Virginia
100% online courses on topics like Research and Evidence-Based Practice
Future FNPs prepare for important roles in their communities at Marymount. MSN and DNP options in the FNP specialization train nurses with BSNs for successful careers. Nursing professionals with MSNs can expand their skillsets with the Post-Master's Certificate in FNP.
There is a trio of PMHNP degree options depending on your educational background. The BSN-DNP and the MSN in PMHNP prepare BSN-trained nurses for national certification exams. Marymount also offers a Post-Master's Certificate in PMHNP for nurses with MSN degrees.
Marymount's undergraduate and graduate nursing programs are accredited by the Commission on Collegiate Nursing Education (CCNE). Nursing courses at Marymount are taught by practicing APRNs who can speak with authority about the profession. The university's stellar reputation is confirmed by top U.S. News & World Report rankings in its National Universities and Nursing categories. 
If you're interested in becoming an RN, a PMHNP or FNP at Marymount, contact one of our student advisors to discuss which pathway is right for you.