7 Reasons to Become a Family Nurse Practitioner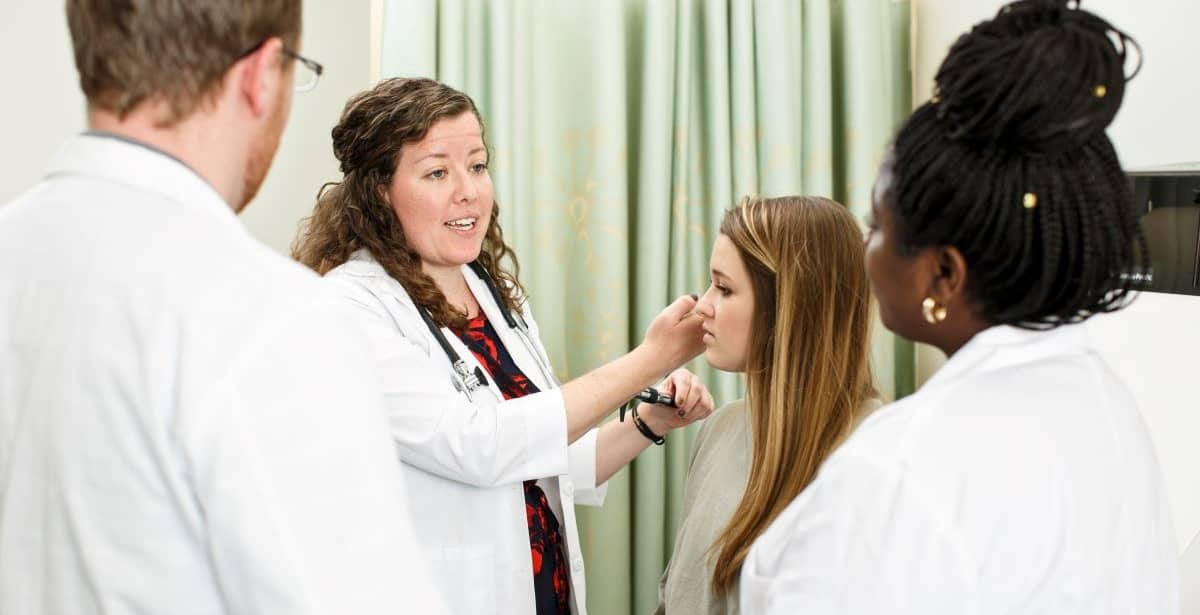 Nurses and doctors are among the most respected professionals in the United States. A 2021 Maru Public Opinion poll placed both jobs in its top five Most Respected Occupations, due to the often close connections formed between patients and health care providers.
A registered nurse who furthers their careers by becoming a Family Nurse Practitioner (FNP) enjoy greater autonomy as a heath care professional, more sustained impacts on patient health, and higher salaries than their RN counterparts. Let's dig deeper into the top reasons why becoming an FNP is a good career move.
1. Meeting the Growing Demand for Primary Care Providers
FNPs are necessary if we hope to improve levels of care across the country. The United States faces an acute shortage of primary care physicians. The Association of American Medical Colleges (AAMC) estimates a shortage of up to 124,000 physicians by 2034. Staff retirements, an aging patient population, and identified health inequities have highlighted the need for more providers.
A 2018 study found that only 8% of med students matched to primary care residencies, while 80% of nurse practitioner graduates specialized as FNPs. This trend means that FNPs increasingly fill the gap in primary care roles.
2. Anticipating a Favorable Job Market
An ongoing influx of new FNPs has not yet filled all of the gaps currently present in the health care job market. The U.S. Bureau of Labor Statistics (BLS) estimates that 112,700 new nurse practitioner jobs will be added by 2031. This projection translates into a 46% growth in new roles from 2021 to 2031.
FNPs interact with patients in a variety of clinical settings. There are FNPs working in private practice, medical groups, and community clinics. The American Association of Nurse Practitioners (AANP) found the most common employers of nurse practitioners were:
Private physician practices (24.2%)
Hospital outpatient clinics (14.5%)
Inpatient hospital units (12.1%)
Community health centers (8.1%)
3. Preparing for Patients of All Ages
The "family" component of FNP education covers ailments and health conditions in people of all ages. FNPs learn how to communicate with children and adults about improving their health. They know how to evaluate, diagnose, and treat with the long-term health of each patient in mind.
The AANP identified at least one billion patient visits with nurse practitioners in a 2021 study. This volume will only increase as nurse practitioners take the lead in primary care settings.
4. Achieving Professional Autonomy
FNPs differ from RNs in the greater independence offered by their nurse practitioner licenses. Patients can rely on FNPs for many of the same services offered by primary care physicians. Nurse practitioners possess the training to complete the following tasks:
Performing exams
Ordering lab work
Writing prescriptions
Diagnosis and treatment planning
Twenty-six states, the District of Columbia, and two territories offer full-practice authority (FPA) for nurse practitioners. FPA states allow nurse practitioners to complete previous tasks without physician supervision or cooperative agreements. FNPs with full-practice authority can open their own practices, especially in underserved areas.
5. Improving Patient Outcomes
Nurse practitioner training emerged in 1965 as a means of expanding the roles of nurses in family care. In the following decades, researchers have identified positive outcomes of this trend toward advanced nursing education in supporting communities. AANP summarizes this research by stating:
"...patients under the care of NPs have fewer unnecessary hospital readmissions, fewer potentially preventable hospitalizations, higher patient satisfaction and fewer unnecessary emergency room visits than patients under the care of physicians."
RN experience combined with streamlined clinical training lead to improved outcomes for patients. FNPs build on this trend with every patient interaction, test, and treatment plan.
6. Finding Stable Work Hours
Inpatient care facilities and emergency rooms schedule nurses around the clock to meet patient needs. Night, early morning, and weekend hours can skew work-life balance and impact nurse health. A 2019 study of nurses across different clinical environments found poor sleeping habits due to changing work schedules.
AANP data shows that a majority of nurse practitioners work in offices and clinics without 24-hour care. FNPs often work standard business hours with limited on-call or after-hours requirements. This stability is ideal for experienced providers who have already spent years in unconventional or inconvenient shifts.
7. Boosting Earning Potential
RNs complete additional education, clinical experiences, and licensing in order to become FNPs. The time spent on FNP training leads to intrinsic rewards including a sense of achievement and career progress. There is also a strong financial benefit to pursuing FNP education.
The BLS reported a median salary of $77,600 per year for registered nurses in 2021. Nurse practitioners earned a median salary of $120,680 in the same year. An average salary difference of 55.5% demonstrates the tangible value of an FNP degree.
Preparing for FNP Careers at Marymount University
Marymount University's trio of online FNP degree and certificate options provide the advanced knowledge necessary for FNP practice. Registered nurses can choose from the following options based on their career goals:
The Post-Master's FNP Certificate prepares MSN-trained nurses for the American Association of Nurse Practitioners (AANP) or American Nurses Credentialing Center (ANCC) exams. This 20-month certificate requires 30 credit hours and 700 clinical hours for completion. Coursework builds skills ranging from chronic illness treatment to working with diverse patient populations.
BSN-educated students complete 45 credit hours and 700 clinical hours for the two-year MSN-FNP degree. Marymount's free clinical placement services across all nursing degrees identify opportunities where students live. Faculty members with FNP experience teach courses on topics including:
Innovative Models of Care Delivery 
Leadership, Quality & Ethics in Health Care
Population Health
The DNP-FNP degree is designed for nurses with BSNs preparing for nursing leadership roles. Marymount requires the completion of up to 70 credit hours and 1,000 clinical hours for this doctoral degree. DNP-FNP graduates not only advocate for their patients but for better health care policies.
Marymount's stellar reputation stems from its commitment to academic excellence. The online MSN-FNP is accredited by the Commission on Collegiate Nursing Education (CCNE). U.S. News & World Report ranked the University No. 247 among programs across the country.
Learn more about how Marymount University's online FNP degrees can boost your career.
Request Your Free Program Guide