10 Nursing Trends to Watch in 2023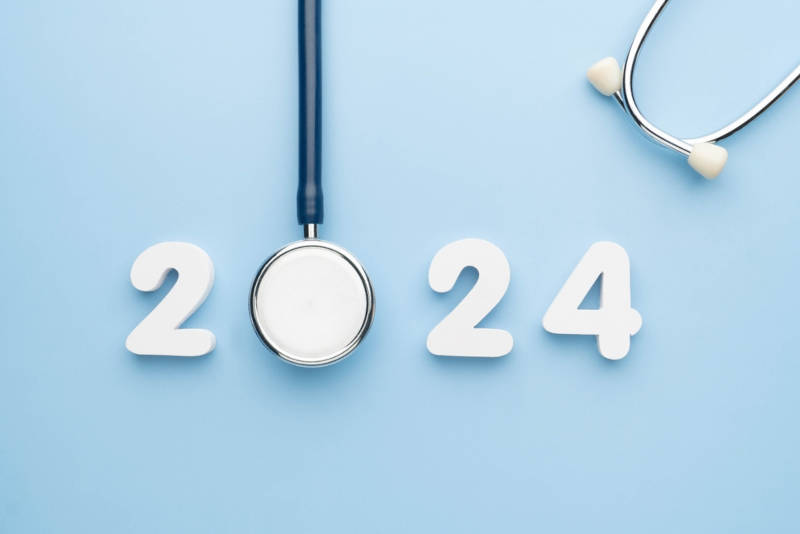 Calm, committed and compassionate.
Efficient, encouraging and effective.
Diligent, determined and decisive.
These positive qualities and hundreds more define the role of the nurse, a role that rises to the top of a variety of charts. For the second consecutive year, nurse practitioner (NP) was ranked first on the U.S. News & World Report 2023 Best Health Care Jobs list, and NP was also ranked second on the 100 Best Jobs list. 
As science advances and the nursing shortage continues, opportunities for nurses to find meaningful, well-paying work only continue to grow. In this blog, we'll identify 10 nursing trends for 2023.
Request My Free Marymount Accelerated BSN Program Guide
1. Online Nursing Programs Will Continue to Be Popular.
Over the years, online education has continued to grow in popularity. Students, especially working ones, enjoy the flexibility of online programs, along with other benefits. For many who live in rural areas, online education has opened up learning opportunities that would have been unthinkable before the internet.
They've also become steadily more mainstream and have been regularly featured in articles from influential publishers touting the many benefits of virtual learning.
For nurses, online education should only increase in significance. Online programs have long been used to further education, create new opportunities and advance careers. As technology continues to advance and become even more prevalent in our everyday lives, new trends in online education are emerging with increased emphasis on:
2. Nurses Will Make More Money.
According to the U.S. Bureau of Labor and Statistics, nurses made a median salary of $77,600 in 2021. In hospitals, registered nurses earned an even greater annual wage, taking home a mean salary of $85,020. 
How do these figures compare to the national average? Across all occupations, the annual mean wage is $58,260, meaning nurses earn nearly $20,000 more than the average worker.
With these favorable statistics, it's safe to say growing salaries will be a nursing trend in 2023.
3. The Nursing Shortage Will Persist with Some Solutions Being Put to the Test.
America is in the middle of a nursing shortage, and the problem will continue through 2023. Several factors contribute to the shortage, including:
Nurses are reaching retirement age. Roughly one-third of the current nursing population could retire in the next 10 to 15 years.
An aging population requires more care. The last of the Baby Boomers will reach retirement age in 2029, resulting in a 73% increase in Americans over 65.
Amid the continuing nursing shortage, some states and organizations have introduced solutions to help close the gap. Here are some efforts that have been made to help the nursing shortage, and it will be interesting to observe their impact in 2023.
4. Job Opportunities Will Continue to Grow.
According to the U.S. Bureau of Labor Statistics, employment of registered nurses (RN) will grow by 6% between 2021-2031.
Every year, over 203,200 openings for RNs will need to be filled over the next decade due to retiring nurses and nurses who switch to a different occupation.
In addition to growth in RN jobs, the U.S. Bureau of Labor Statistics projects a 40% increase in nurse practitioner (NP) openings between 2021-2031. Compared to RNs, who usually provide basic patient care and assist a physician, NPs have more advanced job responsibilities, such as ordering tests for patients, diagnosing illnesses and prescribing medication. Depending on the state that you are practicing in, the job duties for NPs may vary. 
Overall, there continues to be a growing need and opportunity to fulfill various roles within the nursing profession.
5. More Nurses Will Earn a BSN.
As health care systems work to increase the number of nurses with bachelor's degrees (BSN), nurses seeking higher degrees through online nursing programs will remain a popular nursing trend in 2023.
Why The Demand For More BSN Holders?
In 2010, the Robert Wood Johnson Foundation published a report about the future of nursing, in which they recommended more nurses hold a higher degree than an associate's. The original goal was for 80% of registered nurses to have a bachelor's by 2020.
While the revised target is to meet that number by 2029, it may happen as soon as 2025. The 2020 National Nursing Workforce Survey found that 65.2% of RNs have attained their baccalaureate degrees, which reflects a 7.8% increase between 2013 and 2020.
RNs with BSNs enjoy more job prospects, higher salaries and better patient outcomes. Nurses who hold BSN degrees qualify for roles like nurse manager, nurse educator and clinical research nurse. The American Association of Colleges of Nursing conducted a survey in 2022 regarding employment for new nurse graduates, and the results show that nearly 28% of hospitals and other health care settings require new hires to have a BSN. Additionally, nearly 72% of employers expressed a strong preference for graduates to have a BSN. 
In terms of patient outcomes, the American Association of Colleges of Nursing cites studies that have found a 5% decrease in the risk of patient death and failure when hospitals increased their employment of BSN-holding nurses by 10%. If a BSN isn't already on your New Year's Resolution list, the reasons to add it are clear.
6. More Nurses Will Specialize.
You already know that registered nurses can work in hospitals and clinics, but that's only the beginning of available job options. By specializing in a specific area, even more doors can open for nurses, as well as potentially higher salaries.
What kind of specialties are available? Here are a few possibilities, along with average salaries: 
We expect increased interest in programs that qualify nurses to enter advanced nursing roles to make the list of 2023 nursing trends.
7. Support for Nurses' Mental Health Will Increase.
Nurses work long shifts and often go without breaks for hours on end. The truth is, many nurses love the quick pace of their work. But that pace, and the emotionally demanding nature of nursing, doesn't always lend itself to thriving mental health.
The good news is that more and more individuals, organizations and health care systems are recognizing this fact and responding to it.
Here are just a few examples of the recent focus on nurses' mental health:
Thanks to nurses sharing their stories and organizations stepping up to meet their needs, a heightened focus on mental health for nurses should continue to be a trend.
8. Nursing Informatics Will Be a Growing Specialty.
The American Nurses Association defines nursing informatics as "the specialty that integrates nursing science with multiple information and analytical sciences to identify, define, manage, and communicate data, information, knowledge, and wisdom in nursing practice."
Nursing informatics is an attractive, growing field that provides nurses who are also interested in technology with a perfect fit. As electronic medical records and telehealth capabilities continue to grow, the need for qualified informatics nurses will as well. Take a look at just a few indications of the rise of the nursing informatics specialty: 
9. Delivery models will continue to shift and expand.
The capabilities of telemedicine and other remote platforms have increased tremendously over the past few years. This will only increase as individuals and organizations imagine how technology can further benefit patients and lead to greater job satisfaction for nurses who desire remote work options.
In their recent Future of Work in Nursing Survey, McKinsey found that nurses are excited and willing to try different care delivery models. American Health & Drug Benefits reports that at-home patient care delivery is increasing. Given these shifts, the American Nurses Association encourages nurses to:
Embrace technology to deliver excellent nursing care virtually.
Revolutionize education by incorporating virtual reality and team-based learning opportunities made possible by technology.
Accept the flexible, autonomous and support-minded workforce.
Experiencing new technology, adapting to an increasingly digital landscape, and embracing virtual trends in nursing will be essential to—and exciting for—the future of health care.
10. Rising Travel Nurse Salaries: A Double-edged Sword
The past few years have changed the nursing landscape in many ways, and the need for traveling nurses is one of them. Before the pandemic, travel nurses were primarily recruited to help in times of increased need, and they are typically paid higher wages due to the urgent nature of their role. When the pandemic hit, the demand and salaries for travel nurses increased dramatically. According to data from Indeed, travel nurses make 30% more than staff nurses.
Additionally, Bloomberg reported that job openings for travel nurses through SimpliFi had increased by 30% between winter 2020 and August 2021. SimpliFi also stated that while travel nurses have typically made up 3-4% of nursing staff, they now make up 8-10%.
While travel nursing has helped address a growing need and presented new opportunities, it has also revealed the importance of caring for and maintaining current nursing staff. As the nursing shortage continues, it's paramount for health care institutions to find long-term solutions that will truly support and retain nurses.
Marymount Will Continue To Equip Caring, Compassionate and Committed Nurses.
One nursing trend we can promise is that we'll be here, providing our nursing students with a quality education right outside the nation's capital. We love nothing more than empowering our students and equipping them with the tools they need to make a difference on a local, national and international level.
At Marymount, we understand that hands-on experience is an important part of any nursing degree. That's why we offer free clinical placement services for online students. We want to make sure our online nursing students can focus on working and studying while a team of professionals secures an appropriate clinical placement and preceptor for them.
Whether you're looking to make a career change through our ABSN program, earn an advanced degree such as the MSN-FNP, MSN-PMHNP, DNP-FNP, DNP-PMHNP, MSN to DNP, or Post Master's Certificate FNP, Marymount University is ready to provide you with a values-based education focused on holistic care and servant leadership.
We need nurses like you to be trendsetters in the industry—so if you're ready to take the next step, find out which of our online nursing programs is right for you.